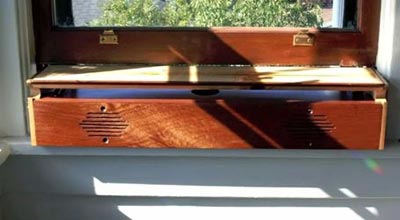 Aeolian Wind Harp
Magical Music Played by the Wind - Beautifully Crafted Instrument
Wind harps have the distinction of being the only strung instrument whose music is composed entirely of harmonic tones, imbuing them with a vibrant resonance not heard in ordinary music. They are also the only strung instrument played solely by the wind. These two characteristics combine to create a music that for many people is especially alluring.
Watch Video
Listen
Order Your Wind Harp...

Aeolian Wind Harp Played by the Wind
Window harps are to be hung vertically or placed horizontally on the inside of a window frame, where draughts and breezes blowing across their strings play the harmonic series of notes. The various airs can be likened to being different 'composers', taking many years for a listener to become familiar with the wind harp's spontaneous 'repertoire'.
Whether placed in a window of a home, work place, or institution, window harps create a refreshing ambiance - naturally!
Listen to the Aeolian Wind Harp
Sounds of the Window Harp being played gently by the wind..
You might also like: Koshi Wind Chimes and Wind Gongs
A Brief History of the Aeolian Harp
Aeolian Harps, named after the Greek god of Wind "Aeolus", first appeared in Grecian culture circa 6 BC, when Orpheus, the "original" poet, held poetry readings accompanied by the music of Wind Harps. Much later, artisans of the Renaissance era re-discovered Aeolian Harps, fascinated with both their physical and etheric properties. Much experimentation with the Aeolian principle, i.e., the vibration of strings by wind, led to a variety of designs and installations.(circa 1695 AD)
The music of the Aeolian harp inspired many poets such as Wordsworth, Emerson, and Coleridge, who wrote of its "ethereal melodies". The naturalist writer and poet Henry David Thoreau built his own wind harps, being inspired, in part, by the sounds he heard from telegraph wires as the winds brought them to life. He called it the "telegraph harp".
Subsequently, the advent of mechanical and electrical devices at the turn of the last century relegated the simple wind harp to near obscurity.
What Are Harmonics Anyway?
Webster's dictionary defines a harmonic, also called an overtone, as "one who's vibrational frequency is an integral multiple of the fundamental". Simply stated, the harmonic tones "contained" within a string can be likened to the variety of colours "contained" in white light.
Changes in wind velocity will sound a higher or lower harmonic, at louder or softer volumes, respectively.
Contemporary Innovations of Aeolian Harps
Over the last few decades, Aeolian Harps have been resuscitated to a new popularity through innovative designs by makers around the world. The Aeolian wind harp featured on this site have been designed and built by Greg Joly, a Victoria BC piano-tuner and wind harp artisan since 1980.
Buy Aeolian Wind Harp
Aeolian Wind Harp (3ft) $980
Carols 'Special' gift wrapping $5
Australia wide Registered Post & Insurance - FREE
Sizes range from 2' - 6' in length to fit your window or door frame.
Contact us directly for ordering 2' - 6' harps.
Window Harps can take from 2-3 months to arrive as they are custom made and shipped from Canada. (Express post available)
Note: To buy, contact us or choose length from the dropdown menu,
then press the 'Add To Cart' button. You will be directed to PayPals Secure Payment page. Credit & debit cards are accepted through PayPal too! (You don't need a PayPal account.)
Return Policy
30 Day, 100% Money Back Guarantee!
We are confident that you will be happy with our high quality wind chimes. If you are not 100% satisfied for any reason, a full refund is available. (Returns must be well packed and returned in their original condition within 30 days.) We will even pay return postage!
Contact Us